I was so excited for my fall themed meal for bunco I just couldn't wait to serve it! And I think it was a big hit with everyone. The menu for the night was Strombolis with Orange Pretzel Salad and for dessert, Carrot Cake!
A tradition for my family is to make Strombolis while we decorate the Christmas tree so the fact that I was making Strombolis in October was shocking to my sister but no matter the time of year Strombolis are always appropriate! I hope as we enter into the holiday season maybe you can start serving Strombolis while you decorate the Christmas tree. Unfortunately, we were all so eager to dig into the Strombolis I didn't get to take a picture of them but I am going to include the recipe, again this one came from my mom's cookbook.
The second dish for our meal was orange pretzel salad, now usually this is strawberry pretzel salad but for Halloween I trade in the strawberry jello for orange jello! This recipe also came from my mom's cookbook.
I finish with a carrot cake shaped like a pumpkin using to bundt cakes and putting them together to get a full circle with the perfect ridges of a pumpkin. Color the frosting orange and color just a little bit green for the stem. For my stem I just used a paper cup and frosted it with the green frosting! You can also use an ice cream cone as an option for the stem! I think I included the carrot cake recipe in a previous post so I won't re-post it here.
I made this meal back in October right before Halloween I'm just a little behind in posting the blog! I apologize for the delay.
StromboliMeat Mixture
1 pound ground beef
1 tablespoon fine chopped onion
1/2 cup tomato sauce
1/2 cup ketchup
2 tablespoons Parmesan cheese
1/2 teaspoon garlic powder
1/4 teaspoon fennel seed
1/8 teaspoon oregano
6 slices mozzarella cheese
6 slices of hard salami
In a skillet brown beef and onion. Add tomato sauce, ketchup, Parmesan cheese, garlic, and spices. Cook for 20 minutes.
Bread preparation
6 sub buns
2 tablespoons butter
1/4 teaspoon garlic powder
1/2 teaspoon paprika
Mix butter, garlic powder and paprika. Split buns and spread on butter mixture.
Sandwich
Put mozzarella cheese on bun.
Put salami slices on bun.
Spread meat on top of cheese.
Wrap individually in tin foil.
Freeze for later or bake at 350 for 15 minutes.
Orange Pretzel SaladBottom Layer
2 1/2 cups pretzels, crushed
3/4 cup margarine, melted
1/4 cup brown sugar
Combine pretzels, margarine, and brown sugar. Mix well and pat into a buttered 9 x 13 baking dish. Bake at 350 for 10 minutes. Let cool.
Middle Layer
1 cup sugar
8 ounces cream cheese, softened
8 ounces frozen whipped topping, thawed
Cream the sugar and cream cheese. Fold in whipped topping. Spread the mixture over the cooled crust making sure the crust is sealed well with the mixture.
Top Layer
6 ounces orange gelatin (substitute strawberry is you'd like)
2 cups boiling water
10 ounces mandarin oranges (frozen strawberries if you are making strawberry pretzel salad)
Dissolve gelatin in water while still warm. Add oranges, stirring slightly. Cool in refrigerator until mixture begins to set. When the gelatin begins to set pour it over the middle layer. Chill until firm and serve.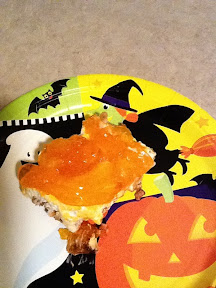 Happy Halloween!
And to include some of the decorations I had up, here is a picture of the flowers displayed in a pumpkin vase! A great idea from my mom!
- Posted using BlogPress from my iPad