You might say I'm crazy for attempting a 12 layer cake and I have to agree with you but I have a slight competitive side so after my sister baked a 12 layer cake I decided I just had to try. What occasion screams the need for a 12 layer cake? An Alabama football party of course! I decided to alternate the layers between a red velvet and white cake (also known as Crimson and White)! I should have made one more layer to complete 13 for the national championships, oh well next time (hopefully next time it can be 14 layers!)
As I mentioned previously my sister had made a 12 layer cake a few weeks before I made mine and it had a little trouble standing. She was shooting for 29 layers for a friend's birthday but when layer 4 caved on her it was a new plan and 12 seemed doable, it was edible. Hearing her during the cake process made me want to try a 12 layer cake myself, I tend to have a bit of a competitive side. I just wanted to see if my cake could stand on its own. It did! My friends were all a little nervous when I cut into the cake, they had bets that it was going to collapse to the ground! Good news is it didn't and we went on to enjoy all 12 layers!!
Of course cake wasn't the only item served for the football party I also fixed a 7 layer taco appetizer and some pizzas. Both of these were easy to fix and serve. The taco dip came from my mom's cookbook, "Going to Carole's", and is always a hit! Loree also made some cherry tomatoes with mozzarella balls in the middle, they were delicious (and also happened to fit the Crimson and White theme).
Here is the taco appetizer recipe, Enjoy!
Taco Appetizer
Mix each layer separately and then place on a serving plate(or a disposable cake pan works great to keep it all in!) in layers and serve with Fritos or your choice of chips.
Layer 1
2 cans bean dip
Layer 2
3 avocados, over ripe
2 tablespoons lemon juice
1/4 teaspoon pepper
1/4 teaspoon salt
Or you can get guacamole already made up for this layer!
Layer 3
1 cup sour cream
1 cup mayonnaise
1 package of Taco Seasoning mix
Mix these together before spreading
Layer 4
Do not mix these layers, just layer them.
Green onions, chopped, as desired
3 tomatoes, chopped
1 can ripe black olives, sliced or chopped
Cheddar cheese, as desired
Now one more thing before I leave you with some pictures,
ROLL TIDE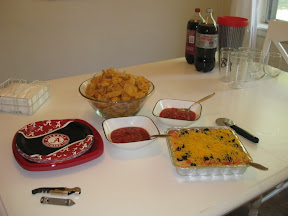 Taco Dip!
The whole spread with the taco dip and pizzas!
Now for what you've really been waiting for the twelve layer red velvet cake....
To have a comparison my sister's cake on top mine on the bottom.
About to cut it, will it still be standing after I make the first slice?? Let's see!
Success! I love this picture because it really shows the different layer colors!
- Posted using BlogPress from my iPad
- Posted using BlogPress from my iPad